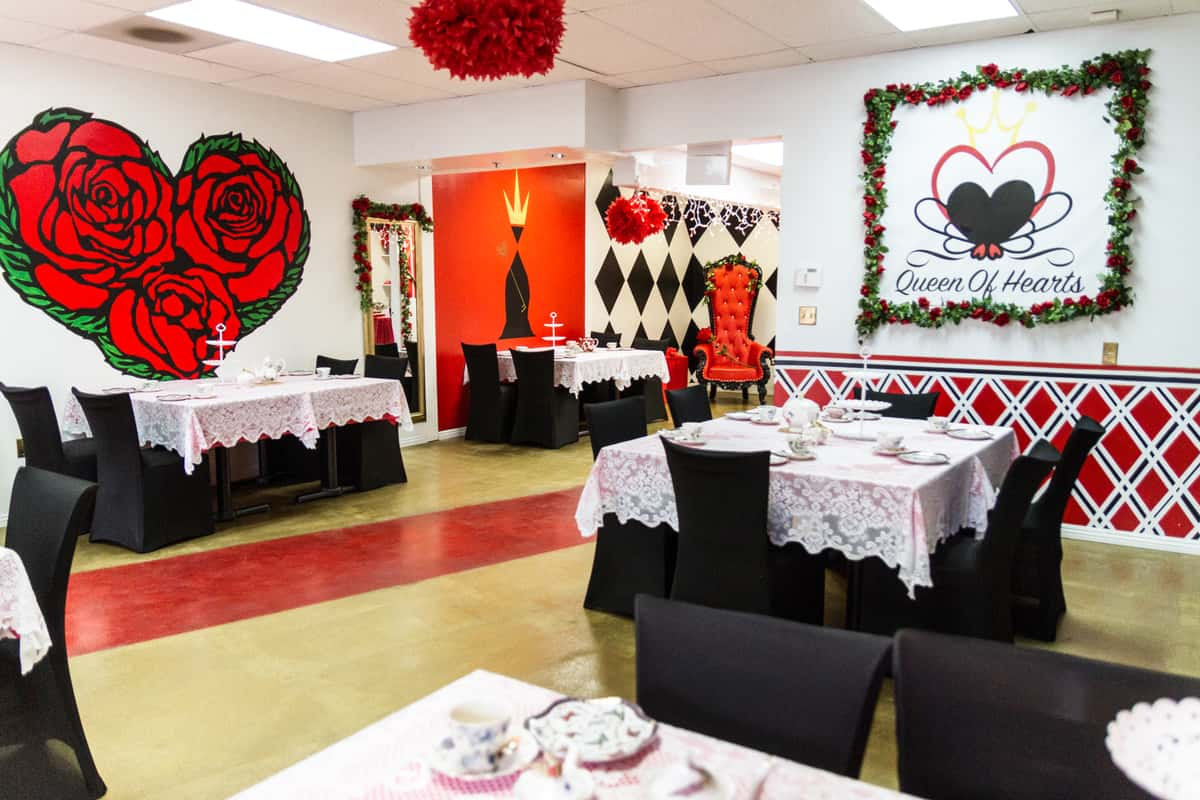 FAQ
Welcome to Queen of Hearts, the Best Tea House in Las Vegas!
Owned & Operated by "As Seen on Food Network" Sugar Chef Angela Sweetser-
We start you off with a little tour around the shop and then introduce you to our Loose Leaf Teas.
We have about 20 different types to pick from, everyone gets their own and we bring you two flavors per person. Next up are Warm Scones accompanied by jams and creams. Once you've finished those, we facilitate new teas and out come your three-tiered pedestal Tower of Treats! The bottom tier has Savory Sandwiches, the middle tier is Miniature Pastries and the top tier has Tiny Cookies. We have little boxes if you can't quite pack it all in you may take it home. We also have a la carte sandwiches available if you're feeling extra peckish.

Please wear clothes! Also, you're never fully dressed without a smile 😊 Coco Chanel encourages us to remove an accessory before going out so not to over do it. Queen of Hearts is not Coco Chanel. Wear the accessories. Over Do It. We Love It! We also have a little Prop n' Shop Room with Dress Up Top Hats, Bunny Ears, Goofy Glasses etc if you'd like to don them while you're dining or for pictures on our Signature Red Throne.
Queen of Hearts is an Event Space not a typical restaurant. It is an intimate venue that books out quickly with first come first served. Weekends fill out often a week or more in advance, weekdays get scooped up by our Local Social Clubs. We require reservations for dine in and prepay secures your reservation, Tax & Gratuity are included. Take Home Tea Parties are available for Pick Up with PreOrder. Please inquire for Catering, Custom Cakes, & Dietary Accomodations.
Require 48hr notice & Guests have 3 options:

1. Guests may transfer their payment to reschedule for a later date (subject to availability)
2. Guests may pick up their order same day & time as originally scheduled or
3. Guests may receive up to 50% refund
Queen of Hearts is open to All Ages however Children 7 & below are only invited to Special Teas & may not attend General Teas. Special Teas are hosted several times per month, weekdays & weekends.
For more details, please advise when Booking.
I submitted a request but there was no way to pay?
Hi! This is an automatic response to let you know your request has been submitted. A real human will reach out to you shortly to confirm reservation details & payment.
Can I order Pick Up, To Go, Catering or Custom Cakes?
Yes! Take Home Tea Parties are available for Pick Up with PreOrder. Please inquire about Catering, Custom Cakes, & Dietary accommodations such as Gluten or Dairy Free.